2020 Rimrock Rover Ramble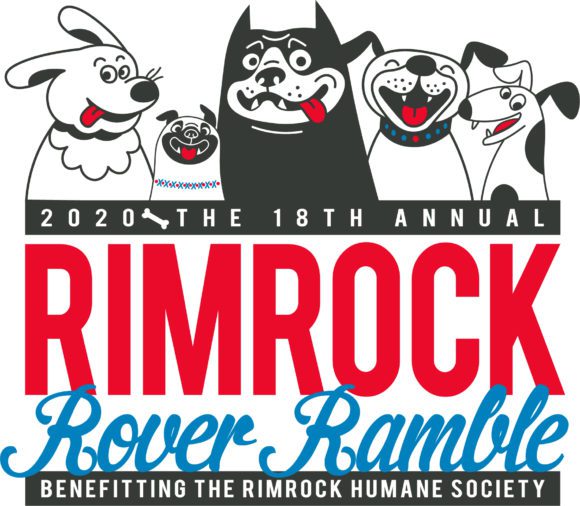 ---
***IMPORTANT INFORMATION ABOUT THE ROVER RAMBLE!  PLEASE WATCH THE VIDEO BELOW!***

Due to COVID-19 and the stipulations set in place by the CDC and WHO, we will be re-scheduling this event to a time in the fall (possibly late September or early October).  Please bookmark this page for further updates!
THE EVENT
Who: Pet lovers who want to raise money to help end pet overpopulation in our area and have a great time with their dog!
What: A 3 mile (5K) run/walk or a leisurely 1.5 mile group dog walk, fun, refreshments, door prizes and a chance to meet others who care about our four-footed friends.
When: TO BE DETERMINED —  IN THE FALL SOMETIME!   BOOKMARK THIS PAGE FOR FURTHER UPDATES!
Registration begins at 8:30 a.m. – 3 mile run/walk starts at 10:00 a.m.
1.5 mile walk begins at 10:10 a.m.
Where: Pine Ridge Golf Club, Roundup, Montana
Why: To raise money for the Rimrock Humane Society's Community Spay/Neuter Program. Helping low income families afford spay/neuter surgeries for their pets and to curb pet overpopulation in our community. Since the inception of this program in January 2006 to present; over 2,161 cats and 997 dogs were altered. This is such an invaluable program for the animals and families of this community – especially during these hard economic times!
---
HOW TO RAMBLE
Step 1: Register
Register by midnight on April 15th to qualify for a discounted $25 pre-registration fee. If you miss the deadline, you can still collect pledges and attend the Rimrock Rover Ramble; day of registration fees will be $30. For those pre-registered by 4/15, you will be guaranteed the day of the event a free t-shirt and a bandanna for your dog!  (Children under the age of 12 are FREE!)
Here is how you pre-register for the event:
OR
Please fill out and mail back to Rimrock Humane Society, PO Box 834, Roundup, MT 59072.
Step 2: Gather Pledges
Although this is not mandatory, we would love to make this a very successful fundraiser and the registration fees basically help us pay for the t-shirt, bandana and refreshments. Please help us by collecting pledges from other animal lovers, friends and family you know by either printing out a pledge form OR by using our newest feature where you can create your own fundraising page, personalized with your information! This allows your friends and family to easily and conveniently pledge on-line and sponsor your Ramble! The money they pledge is then sent directly to us. Please use the following links:
OR
If you are collecting pledges via the form, please bring all of your collected pledge money on the day of the event. Each $45 you raise will neuter one cat; each $150 will spay or neuter one dog. Help us to nip pet overpopulation in the bud and save lives!
Step 3: DATE TO BE DETERMINED – BOOKMARK THIS PAGE FOR FURTHER UPDATES (IN THE FALL SOMETIME)!!!
Remember to bring all of the money you collected to the event. After the ramble, be sure to stay for the drawing of some wonderful door prizes, enjoy some refreshments and mingle with other pet lovers! Most importantly, have fun and know that you helped raise money to stop pet overpopulation in our area!
Can't join us? Consider being a Ghostwalker!
Sound eerie? Not at all! You may not be able to attend but you can still help us raise money for this very important program. If you sign up as a ghostwalker and pay the $25 registration fee + $3.00 for shipping, we will mail you a t-shirt (just like you were here) and then you can go out and get pledges, raise some $$ to help end pet overpopulation and not get sore feet! Although you may not burn as many calories, what a great way to raise awareness of the importance of spaying & neutering our pets. Please consider being a ghostwalker … even though we would prefer to see your smiling face!
---
RULES & RECOMMENDATIONS
Limit two dogs per walker. Participating dogs must be at least 6 months old.
All dogs must be on leash.
Please do not bring a cat or other animal which may be at risk around dogs.
Use good judgement with your dog. Please do not bring a dog which may be dangerous to other animals or humans. Event officials reserve the right to refuse entry to any animal.
Please be sure your dog's vaccinations are up to date and that current ID tags are worn.
Please be responsible and clean up after your dog. Plastic bags will be provided for your convenience.
If your dog is not already spayed or neutered, Rimrock Humane Society encourages you to have your dog altered. Spaying or neutering your pet is the right thing to do in the face of Montana's tragic pet overpopulation problem and also has many health benefits.
Absolutely no dogs in heat will be allowed at the event.
A veterinarian will be on hand in case of injury or emergency.
Please follow these simple rules and we'll all have fun!
---
DIRECTIONS TO THE RAMBLE
Pine Ridge Golf Club, Roundup, Montana

---
THANK YOU TO OUR SPONSORS!
A very special thank you to our Sponsors listed below for their generosity and caring! Without them, none of this would have been possible. Please be sure to patronize these sponsors – they have cared enough to assist us with this function, lets return the favor!
GOLD SPONSORS
---
SILVER SPONSORS
---
BRONZE SPONSORS
ELECTRIC SERVICE SHOP
COMPUTERS FOR TOMORROW
WOLT'S PLUMBING & HEATING
---
Door Prize Donors